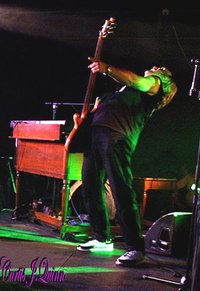 Charlie Souza is the original "Tom Petty" bass player.  He is also a vocalist, a writer and a producer.  Charlie's music has been released on Columbia Records, Atlantic Records (Los Angeles), Polydor, Fantasy, Laurie Records (New York), Phoenix Records (Europe) and now on his own Independent label, Souzaphone Records.
Charlie has performed, collaborated and recorded with Tom Petty, Bill Champlin (Chicago), Joe Walsh, Jim Horn, Greg Allman, Cactus, Santana keyboardist Leon Patillo, The Darrell Mansfield Christian Band, White Witch & Gale Force (produced by Wayne Henderson of The Jazz Crusaders).  As a writer and bassist for Atlantic Records metal rock group Fortress — a cult favorite in Europe — he also played bass on the protest song CD for Native American actor Floyd "Red Crow" Westerman.
---
Live Your Dream, a book by Charlie Souza
Charlie has written a book, a biography (published by Florida Books & Videos - Orlando, Florida) entitled Live Your Dream!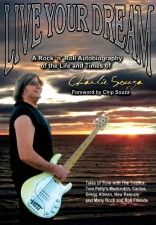 Quoting Tom Petty (The Heartbreakers):
"In 1965 The Tropics were the biggest band in Florida-simple as that. I watched them in awe. Their power was never truly captured on record, but a show beyond belief! No small part of that was bassist Charlie Souza. When my band in 1975 was looking for a bass player, as I was switching from bass to guitar, we asked Charlie to join and he did. Unfortunately, the band folded not long after he arrived. But in that short time I found him to be a great musician and a nice guy. I'm sure his book will be an interesting read for anyone looking for rock & roll adventure!"
---
Livin' in Paradise by Charlie Souza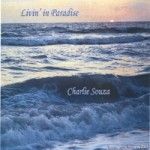 Charlie's song, Carry Me Back To St. Petersburg,  off his Tropics "Livin' in Paradise" CD, was voted  winner of the official City of St. Petersburg song contest."
---
---
REVIEWS
"A real stroke of genius! I was first introduced to Charlie Souza via Bill Lordan (Robin Trower Band). He collaborated with Bill and Eric Turner on some songs and I wanted to hear more. 'Livin' In Paradise' is a wonderful album with a diversity of styles. Jazzed up Rock and Roll in 'Summertime Blues'- some mean sax. Latin influenced blues (Javier Vargas/Santana) on track 4. 'Time.' Amazing song. Funky rock. If you like your music happy then this album is a must as Charlie takes you on a 'Trip Thru Time' to a 'Simple Life.' Mr. Souza is very lucky to be surrounded by some great musicians too. The guitar and brass sound so pure. Great production skills. A real stroke of genius is to finish the CD with a classic Lennon/McCartney track, 'All You Need Is Love.' Dare I say it?… Equals the original version.  'Livin' In Paradise' is a marvelous blend of memorable tunes, great stories and observations, served up in an appetizing array of styles. I'll be surprised if I can find a more enjoyable listen this year." 
Ray Martin, Northern Ireland
"…'9 Ball' & 'Live Your Dream' has that quality and has the edge to take what was good back then and bring it up to date.  It's Rock and Roll I like and search hard for today that I liked yesterday and has the sound of rock and roll for tomorrow! I love rock and roll, and, Charlie, your music is Rock 'n' Roll. I'd like to add that the production quality is excellent and the musicians are outstanding in every way!"
LouRicca, President - Backstage Pass Productions - Zurich, Switzerland
"Really great! Every time I listen to Charlie Souza`s music, I always want more, never can wait for the next CD to turn up in my mailbox. Almost like being addicted!!!" ~
Kjell Andreassen RADIO HOLSTEBRO - Holstebro Denmark
"9 BALLS TO THE WALL ROCK 'n ROLL... Souza deserves to be on every station's playlist. Joyful, soulful music...enjoy!..."
David Salidor
"…Oh what joy! It's like a breath of fresh air blowing through the house!"
Ray & Barb O'Hare
Blues Radio UK ~ Blues With A Smile Records ~ Warrington Blues Club & Festival