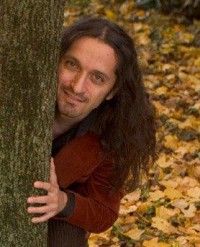 Gianni Latrofa (SIAE) was a child prodigy who started playing music at the age of 4. As a child he won every music competition he entered in Switzerland.
Gianni's family moved to Italy when he was 9 years old where he began his studies at the Conservatory in classical organ and piano. At the age of 17 his interests turned to pop and rock music. Gianni also began composing his own music in various music styles. He joined bands of major pop Italian artists and within a few years was arranging and composing for those artists.
Gianni's first experience as a dance music producer came in 1996 with 'Rising Sun – Inertia' (Drohm/BMG); The Promise - Pro Six - Dig It. Gianni moved to London where he started composing chilling music in a pop-classical style. His creations are featured in several short films. Back in Italy he worked in TV (Telenorba) as a music consultant for variety shows as a pianist and composer. This experience provided him the opportunity to reach a larger audience while composing and performing his own music live on programs likethe daily television program "Gran Lady", "The Cripton" and Jasmine Magic Show".
From 1996 to 2002 Gianni worked as music director, composer and arranger for all Idotea's music productions, where his music is featured in movies and short films.
In 2007 Gianni released his first instrumental album entitled "Cobalto", followed by, 'Viola' in 2008. "Infinito" was released in January 2011.  Gianni's newest release is "Cripton and The Magic Dream" (a Jowa Limited Edition) and includes a re-edit of 'Rising Sun - Inertia' (Nar International), from his earlier trance-dance experience.
In 2007 Gianni released his first instrumental album entitled COBALTO. VIOLA followed in 2008. INFINITO was released in January 2011, followed by PIANO BELLS, a Holiday EP produced to celebrate his U.S. partnership with WorldSound Productions. Gianni's newest release is the single MY INSANITY (released May 2013) as a preview of his new album due out in the Fall of 2013.

After a prolonged visit in the USA, Gianni returned home to Italy, recording and producing for several exciting new projects.
---
---
WorldSound Productions (ASCAP / Gus & Layla Music) serves as sub-publisher in the U.S. for Gianni Latrofa and JOWA Music.
Contact
Please click here to send a message.