Karen Tobin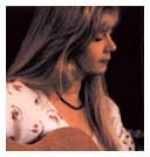 "She will touch you to the bottom of your soul with her intensely emotional performances. All of her songs come from her real life situations. Her show should not to be missed."
Karen Tobin is a veteran of the Country Music scene.  Classically trained, she's recorded for Arista Records (New York) and Atlantic Records (Nashville).  She's been nominated as Best Country Artist by the Los Angeles Music Awards and her rich soprano vocals have been compared with luminaries Emmylou Harris and Linda Ronstadt.
Karen is well known as a local favorite, playing around the Los Angeles area and at Country music festivals.  At one time known as one-half of the duo Crazy Hearts, she can be heard on the Town South of Bakersfield Vol. II CD.  Another release on Big Otis Records is Karen Tobin and Crazy Hearts. Carolina Smokey Moon (Atlantic Records) was recorded in Nashville with Producer Keith Stegall after Stegall heard Karen singing at the infamous Palomino Club. 
Karen's music and sensitive lyrical style can be heard on movie soundtracks. She has also scored themes for film and her songs have been recorded by other artists throughout the world.  This prolific singer/songwriter recently sang on Neil Young's Living with War CD with the 100 Voice Choir and In October 2006, Karen was one of the headliners for the Autry National Center at the Annual Gala Benefit event 'Yosemite: Night of an American Icon,' honoring Kirk Douglas and the National Park Service with the Western Heritage Award. (The Gala raises essential funds for the museum's educational programs and art and artifact acquisition fund.) Karen Tobin & Friends also provided the musical entertainment for the Post Los Angeles Emmy Awards at the Television Academy In North Hollywood on August 25, 2007.  
Click here to contact Karen for Bookings
---
That's What You Get - Karen Tobin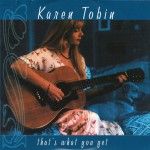 THAT'S WHAT YOU GET is on Karen's own label, Sunnyland Productions, and has received international acclaim for the vocal quality and songwriting. With a mix of new original Contemporary and Classic Country, Bluegrass and Americana songs, Karen delivers these beautiful melodies effortlessly.
Reviews 
"The sound is smooth and easy to swallow, and the inclusion of mandolin, fiddle, Dobro and pedal steel adds just the right touch of twang." ~ AC,  Maverick Magazine

"Ms. Tobin wails out a shivering mountain edged soprano that's laced with a powerhouse of control and emotion" ~ Cash Box

"Everything she does is wonderful; this woman has so much ability." ~ Robert Oremann, Music Row Magazine

"This is a fine album in the Roots/Country genre… all the ingredients are there in the writing, performances and arrangements. Karen possesses a rich voice that is backed up by some superlative playing from the various backing musicians. Karen & Brian Soucy's clean production should also be singled out for praise — as should Brian's mixing skills which keeps the power of the songs but allows Karen's vocals to stand out over the backing tracks…" ~ Dave, Roots To Rock Music Reviews