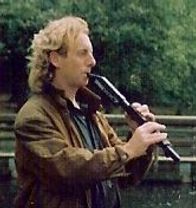 Steve Jolliffe initially rose to prominence with his short tenure as a member of Tangerine Dream in the late '70's, just before he launched a prolific solo career that sees him release albums year after year.  Multi-talented, Jolliffe is perhaps best known for his synthesizer and keyboard work yet he is one of the few people in the world skilled at playing Yamaha's WX-7 MIDI wind instrument.  Jolliffe plays a number of other instruments on his recordings as well — bass clarinet, all flutes (alto, "C" and bass flutes), sax (tenor & soprano), oboe, coranglais, piano and harpsichord — in addition to singing and songwriting.  Given his impressive resumé, it's no surprise Jolliffe has established himself so prominently as a cult artist.
In the beginning of his career, Jolliffe met Rick Davies in the late '60's. The two played in a band called the Joint, which would one day evolve into Supertramp. However, Jolliffe's interests were more academic at the time, leading him to the Berlin Konservatorium, where he studied music. (Jolliffe was the first student to be accepted to the Konservatorium who couldn't read music.) Not long after he met Edgar Froese and soon found himself playing in one of the earliest incarnations of Tangerine Dream. Next came Steamhammer, a blues-rock band. Steamhammer experienced moderate success in the early '70's, touring extensively and recording two albums. Despite the success, Steamhammer didn't last long. 
Jolliffe's career rebounded in the late '70's, when he re-joined Tangerine Dream, who were quite a popular band at the time. Though he only recorded one album with the band, Cyclone (1978), Jolliffe made large contributions to the album, playing a multitude of instruments and writing the songs. Furthermore, he toured Europe with Tangerine Dream in grand fashion for extremely large crowds. This stint enabled Jolliffe to launch a solo career, beginning with the Drake's Venture album in 1980. He didn't relent following this debut album.  Jolliffe has released approximately one album a year since then.
Besides his solo Independent recordings, Jolliffe composes music for film and television. Jolliffe's music can be heard on Discovery Channel & BBC. He also hooked up with Eat Static's Merv Pepler.  After recording with Eat Static on 'Science of The Gods' Jolliffe and Pepler collaborated again, creating Hi-Fi Companions and producing the recording 'Swingers In Paradise.'
When asked about his music Jolliffe says "My work is an expression of my emotions - a viewpoint of life" 
~ Thanks to Jason Birchmeier of AMG
---
For Steve Jolliffe's Complete Discography of solo albums, collaborations, DVDs, books and more, visit Steve Jolliffe's Official Website
---
Deep Down Far by Steve Jolliffe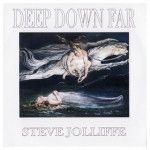 "Deep Down Far comes over as a [much more] emotional collection. Beautiful without being pretty and with a heavy dose of the melancholy………… To sum up, this is not remotely like anything Jolliffe has done before and for that matter not like anything I have ever heard anyone else do before either!" ~ David Law, Synth Music Direct 
Original CD release 1999 on Horizon Music label
Rereleased 2006 as a limited private CDR

(Exórdiri [track1] has been licensed to be used in advertising Discovery Channel.)
---