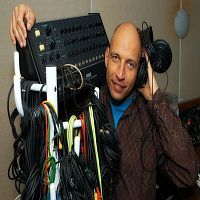 Rob Papen is a world renowned sound designer whose sounds and virtual synthesizers are used and loved by many synthesizer players and music producers. The virtual Rob Papen synthesizers are the cutting edge in what is possible in today's contemporary music making. They are truly unique because of the concepts, sound quality, and most of all, the musical and useable nature of the presets.
As one of the founding members of the Dutch electronic synth groups PERU and NOVA, Papen has also experienced much celebrated success for his musical compositions. NOVA's recording of 'Aurora' reached Number One on the charts in The Netherlands and PERU's 'Africa' climbed to Number One in Austria. NOVA released 3 albums. PERU released a total of 8 albums.
Born on October 8, 1964, Rob Papen started playing synthesizer when he was 15 years old, starting with a Korg MS-20 synth and a SQ-10 sequencer. Rob went on to study electronic organ. Not long after, inspired by groups like Tangerine Dream and Kraftwerk, and artists like Jean-Michael Jarre, George Morroder, Vangelis and Klaus Schulze, Rob was composing his own music.
Besides being a Christian Music Artist, Papen's musical tastes are expansive. In fact, he "simply loves good music." From Bach to Lenny Kravitz, HipHop to R&B, and artists ranging from Depeche Mode to James Brown, his tastes are all reflected in his sound products.
---
About The secrets of subtractive synthesis "The Four Element Synth"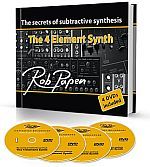 In 2001, Rob Papen began giving exclusive master classes teaching 'synthesizer sound design" in his studio. For these training sessions, Rob developed his own method to explain the secrets of subtractive synthesis, called "The 4 Element Synth". This masterclass training is now transformed into a combined book and DVD package that also delivers numerous 'tips and tricks' which will help you to design and tweak your own sounds. Throughout the masterclass, a variety of hardware and software synthesizers are explored.
This 200+ page book, which is accompanied by four DVDs with over 10 hours of content, gives an in-depth insight into his approach of working with subtractive synthesis.
---
Daydreamer - Rob Papen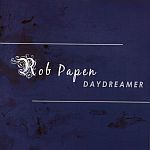 'Daydreamer' is Rob Papen's debut solo release. Studio recorded, Papen used his own custom virtual synthesizer 'Albino 2' in the making of Daydreamer.
---
 Reviews

"I have recently rediscovered the joy of fun upbeat electronic music, and among the best in that category is former PERU member Rob Papen and his excellent album DayDreamer. If like me you began loving this music with the infectious melodic hooks of Jean-Michel Jarre and Tangerine Dream from the late 1970s and early 1980s, this will take you back with a smile on your face. The special edition CD cover aptly describes the music as "devoid of any gloom or darkness," sparkling with "optimistic illumination." I scarcely need to add descriptives of my own. "Maranatha SONG " is bouncy and playful; "Evening SONG" is a dreamy smooth floater with a slow and steady bass sequence; the title track exudes warmth and brightness. Carefully crafted and happy melodies combine with crisp rhythms to produce music sure to appeal to the sunny side of your disposition. "Sion" is the lightest yet, virtually skipping along with its shuffling bass and beats. The sequencing is superb on this track in particular, though it is strong throughout. "Effata "Be Opened"" treads along the fringes of being overly cute, but alongside other such cheerful offerings it works. The original version of the disc closes with the best track, "Time, Times and Half a Time," with more great sequencing, irresistible rhythms and strong melodic synths. The extended version of DayDreamer includes two excellent bonus tracks, "At Ease" and "Red Clouds." The former is a light atmospheric number, laid back but every bit as affirming as the rest. The latter is a brief textural piece that makes a fitting epilogue to this fun journey into daydreams."
 
© 2006 Phil Derby / Electroambient Space
---
"Having recorded for years with bands like Peru and Nova, Rob Papen goes solo with this debut release, delivering a tasty dose of uplifting EM that has roots in Biblical sources.

The electronics are crisp and inventive, exploring pleasant melodies crafted with crystalline execution and cheerful sentiments. Combining textural backdrops with poppy keyboards, contemporary electronics and nimble e-perc, the music luxuriates in a realm of positivism and entertaining tuneage. Keyboards drive the music, delving into melodic variations while auxiliary electronics maintain an engaging foundation. Flutish strains often infect the keys, imbuing the tunes with airy flairs that reach upward toward the life-giving sun.

Utilizing a playful compositional sense, Papen creates good-time melodies that are jubilant and appealing. His style tolerates no gloom or darkness, generating moods that sparkle with optimistic illumination. This dedication is refreshing and enjoyable.

The tracks are generally short (averaging 5 minutes), allowing Papen to explore the melodies without elongation. This compression serves to focus the music into gems of sonic luster. Only one track indulges in extension (clocking in at 11 minutes), and here this extravagance is worthwhile as the composition examines a sense of congenial tension that benefits from the opportunity to build without haste.

This reissue's pair of bonus tracks reflect the same slick appeal with resonant keyboards blending with elegant e-perc. One is a 9 minute piece featuring nicely uptempo tuneage of a highly engaging nature. The other is a 2 minute track of particularly heavenly design. The new packaging comprises an embossed case that matches the music's stately mien." ~ Matt Howarth of Sonic Curiosity 
---
"Rob Papen es, sobre todo, un diseñador sonoro, un constructor de paisajes en forma de sonidos. No en vano muchos de los sintetizadores, módulos y otras máquinas de hacer música profesionales más prestigiosos llevan dentro muchos sonidos hechos por él. Nacido en Holanda el mismo día en que Robert Moog mostró al mundo su primer sintetizador musical, comenzó a trabajar de lleno en el mundo de los sintetizadores electrónicos a los 15 años influenciado, como tantos otros, por Tangerine Dream, Jean Michel Jarre, Giorgio Moroder, Klaus Schulze o Vangelis. De hecho, el comienzo temprano en este particular mundo de la música electrónica dio sus frutos pronto. Con 18 años y formando parte del conocido grupo holandés Nova, consiguió su primer número uno en el Benelux con el tema Aurora, de grato recuerdo para los aficionados a la electrónica y el synth-pop. Asimismo formó parte de Peru, un grupo paralelo a Nova, menos comercial pero que también consiguió un número 1 en Austria. Paralelamente a su trabajo diseñando sonidos para sintetizadores y colaborando en la producción y mezclas de trabajos de otros músicos salió al mercado musical su primer Cd completamente en solitario el 9 de octubre del 2004. DayDreamer fue publicado en RPMusic, está inspirado en la biblia y el cristianismo y en él podemos encontrar 40 minutos de auténtica electrónica. El perfil de Rob Papen como escultor de sonidos se hace presente nada más comenzar a escuchar DayDreamer. De hecho quizás es lo primero que me llamó la atención de este trabajo. El sonido es completamente limpio y cristalino la música tiene siempre un aspecto positivo. En ningún momento abusa de efectos o superpone demasiadas pistas sonoras. En concordancia con otros sintetistas procedentes de Holanda, sus temas se caracterizan por tener una orientación hacia la melodía. Maranatha Song parece más cercano a la música de Nova, Evening Song (Improvisation On Psalm-IV) contiene una típica secuencia de bajo sintético y se desarrolla sobre cerca de 7 minutos, incluyendo un sonido de flauta ligeramente sintetizada, sonido que también utiliza en Effata "Be Opened", un tema que suena étnico y casi juguetón. DayDreamer y Sion son temas más cercanos a algunos electrónicos británicos. Isaiah (53:5) es una pequeña joya en forma de acordes de cuerdas de algo menos de dos minutos, mientras que Time, Times And Half a Time (el tema más largo con casi 11 minutos y el que personalmente más me ha gustado) tiene una escructura más sinfónica... Efectos y acordes durante cuatro minutos hasta que la melodía sobre un delicioso sonido de teclado "vintage" va introduciendo rítmica. Finalmente, a los 6 minutos el tema se transforma en una mezcla de secuencia, acordes, sonido melódico cristalino y percusiones pegadizas. En definitiva, música de calidad de un sintetista que conoce a fondo sus "máqunas de hacer música" y que consecuentemente, sabe sacar el máximo provecho de sus interesantes ideas musicales." ~Jorge Sergio
---
Discography:
Solo album
Daydreamer 2005
Macchu Picchu 1979/1981
Recorded live in the studio on two track.
(It was for the B side of Macchu Picchu that Rob Papen first joined PERU.)
Constellations 1982
Recorded semi-live in the studio on a 4-track.
Continents 1983
Recorded semi-live on 8-track.
Points of the Compass 1986
The first of PERU's 24-track recordings.
Forlian 1988
Includes the remix of "Africa' which climbed to the number one spot in Austria that year. (It was for the recording of Forlian that Jos van Dungen joined PERU.)
Moon 1991
The Eagle has landed.
The Best of Nova 1991
The Prophecies 1993
Considered 'New Edge' synthesizer music.